Biden and Harris Aren't Dodging on Court Packing
The media is asking the wrong question.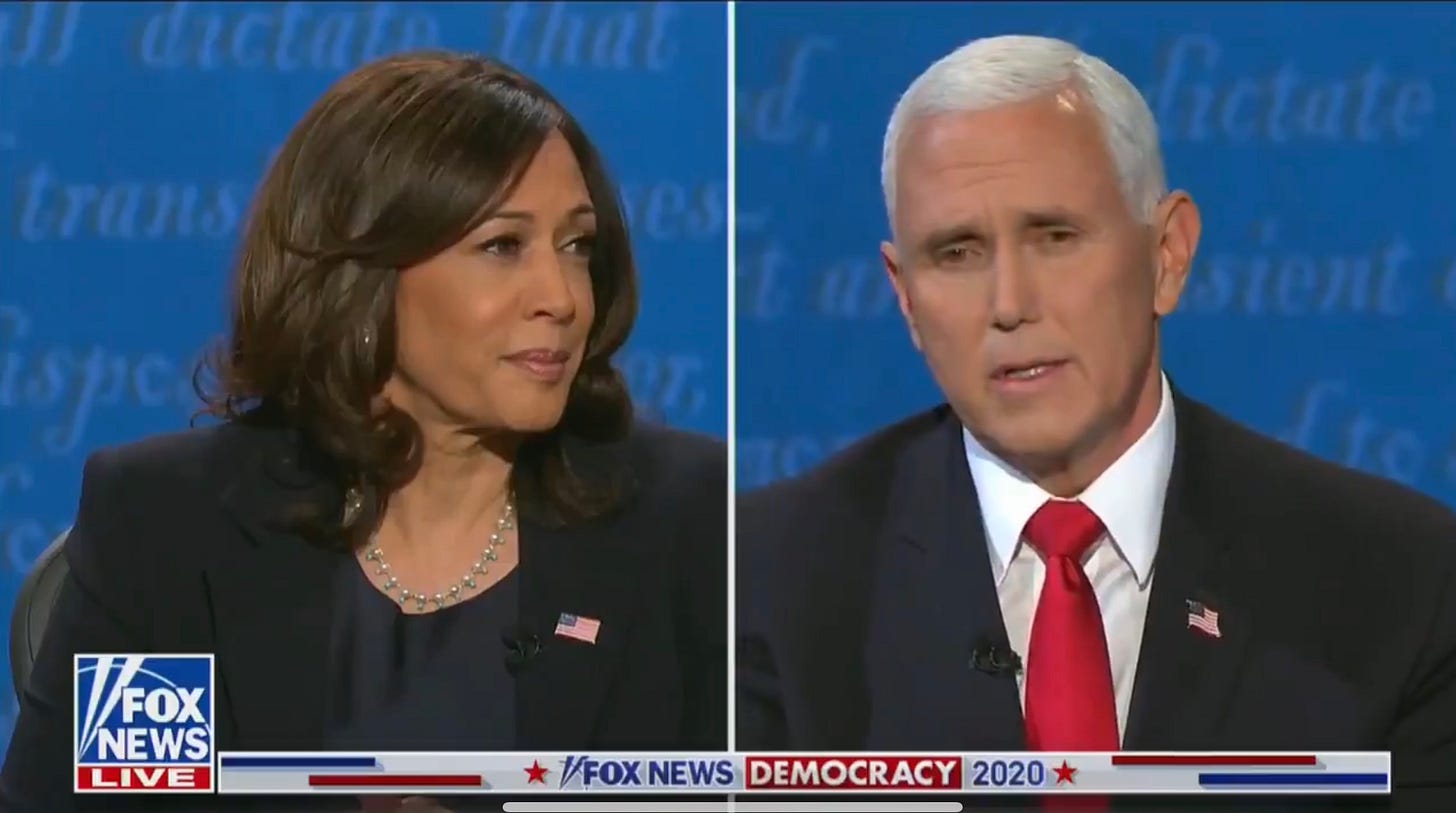 At Wednesday night's Vice Presidential debate, Mike Pence briefly took the role of moderator and directed a question at Kamala Harris that is on everyone's mind: "Are you and Joe Biden gonna pack the court if judge Amy Coney Barrett is confirmed?" Harris's answer, echoing Biden's at the first presidential debate, failed to satisfy the Twitter-verse:
The American people are voting right now, and it should be their decision about who will serve on this most important body for a lifetime.
This response, which mirrors the talking-points the Biden campaign has been offering for weeks, is entirely sensible and squarely in line with public opinion. But it is being cast as a shameless dodge. All across the board—from Fox News to The Atlantic—the prevailing narrative is that Biden and Harris are refusing to give any direct answer on court packing.



Besides the obvious fact that Trump and Pence are the ones who repeatedly refuse to answer questions—on health care, abortion, the economy, etc.—these takes are, in a sense, understandable. It is true that neither Biden nor Harris has stated definitively whether he or she supports adding seats to the Supreme Court if Republicans are successful in confirming Barrett. But that's exactly the point: court packing is a contingency plan; a response to brazen right-wing hypocrisy and corruption. And until we finish the debate over whether Republicans are going to go through with their outrageous plan to appoint a far-right justice less than a month before an election, it makes absolutely no sense to focus the discussion on how Democrats will respond. The ball is in the Republicans' court, not the Democrats'. It's time we start acting like it.
---
There's a simple reality about court packing that many in the media fail to understand: If Republicans confirm another far-right justice nominated by another president who lost the popular vote, court packing is going to happen. It is inevitable. And it is not inevitable because Biden or Harris (or anyone else) advocated for it—but because the most rudimentary democratic principles demand it.
Let's imagine what will happen if Republicans are successful (as they likely will be) in confirming Barrett. Conservatives will have a 6-3 majority on the Supreme Court. Of that six justice majority, five will have been appointed by presidents who lost the popular vote. This majority, before Democrats even take office, will likely overturn the entirety of the Affordable Care Act. It will then chip away at whatever remains of abortion rights, the Voting Rights Act and affirmative action. When Democrats retake power, it will likely continue its plan to dismantle the administrative state, overturn all climate legislation and strike down all gun control measures. The Democratic majority, no matter how far and wide it grows, will literally be able to accomplish nothing.
This is not acceptable. Heck, it is not a democracy. While it may take some time, it is simply inevitable that living under the rule of unelected judges appointed by presidents who lost the popular vote will no longer be acceptable to a growing majority of Americans. Democrats will then add seats to the Supreme Court, not to change the rules or stick it to Republicans or placate the far-left, but to simply make our government resemble something that even looks like a democracy. It's inevitable—it won't be a choice.
The framing offered by the media and the debate moderators, however, fails to offer this vision. In their view, court packing is just another policy proposal on par with Medicare for All or a wealth tax. It's just another frame in the rough-and-tumble political scene. But the fact is, there is nothing to debate about court packing. If Republicans go through with their plan to install a counter majoritarian force that rules our country indefinitely with no accountability, what do you expect to happen? Are Democrats supposed to just not respond?
When it comes to court packing, there is only one issue to talk about: the Republicans' plan to install a far-right justice, appointed by a president who lost the popular vote, weeks before a national election. In that regard, Biden and Harris do have a direct answer: The next president should choose Justice Ginsburg's replacement. That is the only issue on the table right now. Nobody seriously believes that Democrats will add seats to the Supreme Court if Republicans put a stop to their plan to jam through judge Barrett. So why are we talking about it? Why in the world would we discuss a potential response to an action without fully addressing the action itself? It makes absolutely no sense.
Until now, the debates have spent more time discussing the mere potential of court packing than the reason court packing is on the table in the first place. That is completely unacceptable. Adding seats to the Supreme Court is not a policy decision—it is a necessary response that will inevitably occur if Republicans succeed in entrenching minority rule. If the media really wants an answer on court packing, they should ask Trump and McConnell about their plans. Because as of now, it is entirely up to them.